Austin, Texas enjoys sunny skies more often than not. Abundant sunlight is fine if you want to heat up a pool or use solar panels, but it can have seriously harmful effects on cars. Prolonged sun exposure may cause paint to fade and decay. As DriverSide points out, this damage makes a vehicle more vulnerable to rust.
Effective Solution

Many Texans can't keep their cars away from sunlight throughout the day. Even if you use garages at your home and workplace, a lengthy commute may result in many hours of sun exposure. Fortunately, protective films can shield automotive paint from solar rays. Sunbusters' installers apply them to vulnerable parts of cars, such as bumpers and hoods. These invisible coatings also sometimes prevent small stones from scratching vehicles.
Who Applies Films?
Some auto dealers offer paint protection when motorists buy new cars. This practice is particularly common among luxury dealerships. For example, Austin's Ferrari and Lexus dealers have a partnership with Sunbusters to provide this valuable service to their customers. However, you don't need a high-end European auto to benefit from protective films.
If you decided not to pay for this service at a dealership or the salesperson didn't offer it, a paint protection company can directly provide it to you. Be sure to acquire a film when you have time to spare. A new coating needs to cure, and the technician must thoroughly examine it before you depart. This is a task that takes some time to be done correctly.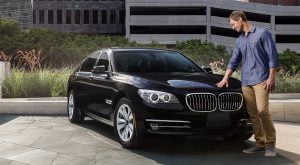 Cleaning and Upkeep
Sun protection films last for years, but you'll need to use the right techniques when maintaining the surface. Wash the car with water and soap. Don't apply degreasing chemicals or carnuba wax. For optimal results, choose a wax with synthetic ingredients. Rough cleaning implements can damage the film and endanger your paint; always use soft materials. Remember to drive slowly on unpaved roads.
If you'd like to benefit from a long-lasting protective coating with a warranty, look no further than Sunbusters. Our staff consistently uses top-notch supplies and equipment. We also customize the film to precisely fit your car's body. Sunbusters was established more than two decades ago, and the Better Business Bureau has accredited us. To learn more, please contact Sunbusters or visit one of our two Austin shops.